Top
>information/for English
ATTRACTIVE FEATURES OF IMPORTED HOUSES
WHY PROMOTE?
Increased Options for the Consumers: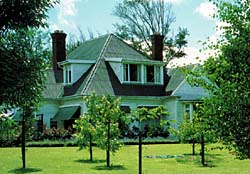 Imported housing adds an option to homebuyers when considering building or purchasing houses. The inclusion of imported houses in the market place brings more competition to the market, leading to better quality houses at more reasonable pricing to the homebuyers.
Vitalizing Japan's Housing Market:
Inclusion of imported houses, which are visually different from Japan's traditional houses, as well as in fundamental performance, acts as a stimuli in the housing market in general.
Design and Yutori(Quality of Life)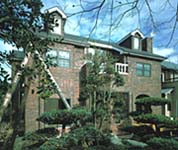 The reasons many prefer to live in imported houses are their highly refined designs, and the quality of life that these residential units provide.
Security & Trust Worthiness
In addition to enjoying the desired quality of life, imported houses give a great sense of security, based on high durability, highly fire rated construction method, and proven anti-seismic performance.
Comfortable and Energy Saving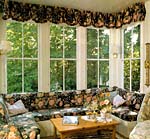 Houses are built to withstand severe climate conditions, and provide comfort to the residents. Thus, the inside of these imported houses is warm in winter, cool in summer. Air-tightness, insulation, and low noise transmission are some of the superior features that imported houses can provide.
ATTRACTIVE FEATURES OF IMPORTED HOUSES
Imported Houses area growing segment of the market: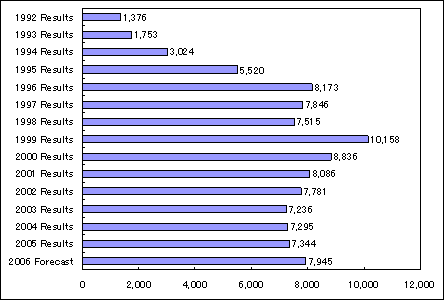 In the over 30 years of the history of importing houses, imported housing has become a genre in itself, enjoying about 10% of new housing starts (2006). In recent years, although Japan's new housing starts continue to drop from the previous years, imported houses have posted a steady growth.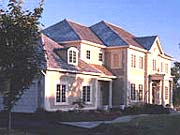 Market share by type
As you can see in the diagram, over 80% of imported houses were built with "platform" or "panel" construction method, followed by 16% being of log homes, and less than 1% of other methods of construction, such as timber frame, etc.
Imported Building Materials for Imported Houses.
Imported Building Materials Listing: (In Collaboration with IBMF)
Currently, work on organizing information and data on imported building materials used among IHIO members, is being conducted. These are the listing categories.
Structural Components: Lumber, plywood, joist, etc.
Roofing materials: Underlay, asphalt shingles, metal roofing, etc.
Wall Construction materials: House wrap, Cement board, Siding , Masonry, Paint, etc.
Exterior Finishing Accessories: Moudings, Stair, Gate, Post,
Interior Finishing Materials: Wall paper, wood panels, mouldings, drywall, stucco, paint /li>
Flooring materials: Solid and engineered, carpet, tiles, etc.
Doors and Windows: Entrance doors, Terrace doors, windows, shutter doors, interior doors, etc.
Interior/Exterior Hardware: hinges, handles, lock, etc.
Equipment: Ventilation, heat-exchange, lighting, etc.
Kitchen & Bath Materials: Cabinets, countertops, cooktops, sinks, faucets, dishwashers, refrigerators, toilet bowls, bathroom sink, etc./
Interior Accessories: curtains, blind, fixed furniture, etc./
Exterior Accessories: Wood deck, balcony, flower box, gate and fences, garage doors, drive way underlay, etc.
LIFE-STYLE PLANNER
This is a profession that is deeply related to people's life-styles. It is widely knowledgeable in producing a living environment that accommodates their desired life-styles.




What is Life-Style Planner?
What is Life-Style Planner Certification Program? Work of a Life-Style Planner (LSP) is to provide more comfortable houses, by promoting better quality of life and living standards, in the house industry. Imported houses are particularly known for their performance and design, so it is important for LSP to convey these advantages in their clients' residence; interior and in the gardens.
There was a growing need in the market for professionals who can help produce housing to live in according to their individual life-styles. In 1998, the Life-Style Planner certification program was started to fill this need. This LSP certification program is created and managed by Imported House Industrial Organization, with guidelines given by the METI (Ministry of Economy, Technologies and Industries). LSP's major role is to promote higher living standards seen in Europe and North America, by fully understanding their housing, and by proposing these plans to their clients.
ABOUT IMPORTED HOUSE INDUSTRIAL ORGANIZATION (IHIO)
ESTABLISHMENT OF IHIO
Today, in the Japanese housing market, the perception of "Imported Houses" is well recognized, and an increasing number of consumers are willing to take a closer look at the advantages of building or buying imported house. This trend is because more Japanese consumers are becoming familiar with the design concept of imported houses which are very different from traditional Japanese designs, and because more consumers understand the advantages in quality and performance of imported houses. In April 1995, companies and organizations that have a role in the imported housing business joined hands to establish a promotional organization, Imported House Industrial Organization (IHIO).
OBJECTIVES OF IHIO
For future prosperity of the imported housing industry, it is essential to win consumer confidence in the quality of imported houses and to develop new markets for imported houses. The IHIO aggressively tackles obstacles hindering construction of more imported houses, and strives to contribute to the improvement of the housing industry in Japan.
ACTIVITIES OF IHIO
For further development of imported housing industry and for the prosperity of the business, the IHIO is currently tackling the following challenges.
Deregulation (Relaxing of Regulations and Restrictions):
It is important to improve the market environment for healthy growth of the imported housing industry under the free market system. For example, relaxing of some regulations and restrictions will lead to freer and more practical economic activities. This will improve the competitiveness of imported housing. The IHIO promotes deregulation by lobbying governmental and municipal authorities.
Cost Reduction:
Also important is to reduce the cost of constructing imported houses to be competitive in the market place. In order to provide good quality imported houses at a reasonable price to homebuyers, the cost of imported building materials, the cost of ocean freight and local delivery, and the actual construction cost which weigh greatly in home building, need to be evaluated closely.
After-Construction Maintenance and Care:
Life of houses is long, and maintenance and care for the houses are required. Because of this the imported housing industry has to look at the maintenance and care of the imported houses thoroughly. The challenges are not limited to the above mentioned, and the IHIO aims to address each of these existing as well as future challenges in order to bring about healthy growth in the industry.
Public Relations and Promotion of Imported Houses:
For further development of the Imported Housing market, it is essential to let it be known about the advantages of living in imported houses. For this objective, the IHIO holds the following activities on a regular basis.
Open House Events,
Seminars and Symposium.
Active networking with overseas suppliers.
Publication of various books and booklets.
Management of a library dedicated to imported houses.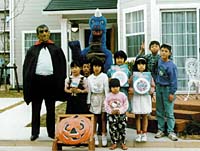 Promotion of Overseas Products and Suppliers:
s an important part of the IHIO, networking opportunities are held aiming to discover or develop excellent building materials suitable for the Japanese market. From time to time, such prospecting missions overseas are organized and carried out.
Information Source:
One of most important functions is to be the information source in the field of Imported Housing.
For the members of IHIO, there is "I-House" magazine, that is filled with up to date and timely professional information and photos.
Promotion of Better Quality Products, Better House Building Technologies:
The constant improvement of the quality of products and services, as well as building skills and technologies is important. The IHIO is the leading organization in promoting these through numerous study and training sessions.
Research and Surveys
Up to date information on the market trend and governmental regulations is very important for the members of IHIO, as well as those in the housing industry. The IHIO conducts studies and surveys to maintain the latest data in the field and share them among the members and authorities.
Relations with Government Authorities:
The IHIO has been the key provider of opinions and feedbacks towards governmental policy changes and revisionsin regulations.
Mandatory House Quality Assurance Insurance:
On the 1st of October, 2009, a law was enacted that all houses built and sold must be assured of minimum quality requirements. The IHIO provides insurance to guarantee that these requirements are met for homeowners who purchase houses built by the members of IHIO.
IHIO Residential Lot Security Insurance:
Although, the new regulation requires newly built houses to meet the minimum requirements, it does not apply when the problems lie in the performance of the residential lots. This insurance covers for damages in such cases.